Storage Containers For Sale
One Trip Containers For Sale
Short or long term container rental
Louisville and Lexington Kentucky locations
Call for delivery location evaluation, accessibility
Swing doors one end or both ends
Secure lock boxes standard on most units
See chart below for dimensions
Built To ISO Standards. Clean, dry and secure
Forklift accessible
One trip containers are the newest containers available on the market.   We offer these containers for sale or rent in Kentucky and throughout the Midwest.  They are called one trip containers because they make one trip from the factory in Asia before being sold.  These "like new" shipping containers are deemed cargo worthy and wind and water tight.  These portable storage containers have a long life ahead of them.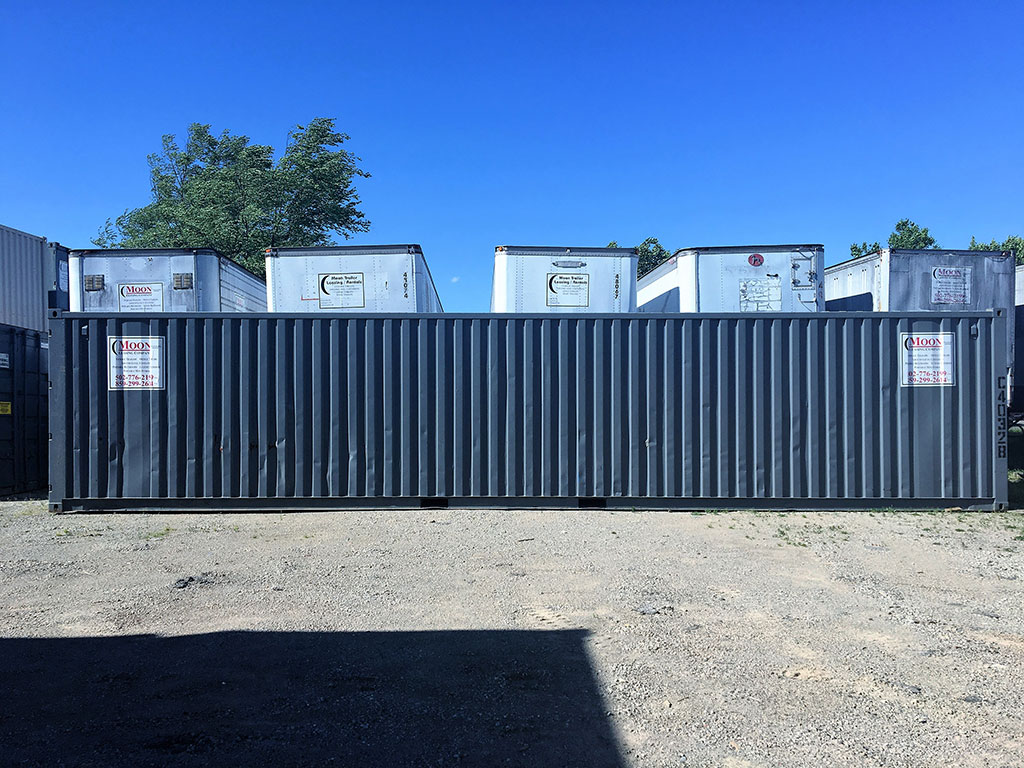 Variety of grades and conditions available
Pre-purchase unit inspection recommended
Ask our expert staff

New vs Used?
Hi-cube vs. Standard?
Ground Level vs. Dock Level
Rent vs. Purchase
Delivery accessibility evaluation
All of our used shipping containers are sold "as is" and are available for pre-sale inspection.  Used shipping containers for sale generally come in random colors and often have dents and some rust due to handling and the shipping process.  There are various grades and conditions of used cargo containers and are priced accordingly.  These conex boxes provide an ideal mix of economy and function for storage.
20' & 40' Standard
All our containers meet standard ISO dimensions
20' & 40' Hi Cube
Hi Cube containers are 1ft taller than normal containers
20' & 40' Double Door
Door's open at both ends of the container
20' & 40' Hi Cube Double
1 ft taller than the standard, doors at both ends
Storage Container Gallery
Storage Containers for Sale
Moon Companies offers a variety of shipping containers for sale in Kentucky, Indiana, Ohio and Tennessee ready for immediate shipment from our Louisville and Lexington Kentucky yards.  We also sell shipping containers from our affiliated depots throughout the US.  The conditions of these storage containers range from new (one trip containers) to various grades of used containers.  Pricing per unit is based directly on age, condition and remaining life expectancy.  Many used cargo containers for sale are deemed to be wind and watertight and have a long life ahead of them.  These units are generally free from holes or structural problems.  All containers for sale on our Louisville, Ky yard as well as units sold from our affiliated depots are sold "as is" and are available for pre-purchase, on-site inspection. While many used shipping containers for sale may not be as aesthetically pleasing as newer containers, they may provide an ideal mix of economy and function for your particular storage application.