Superior Portable Restroom Trailers For The Louisville Area.
Moon Portable Restrooms is recognized for renting clean and reliable restroom rental equipment in the Louisville, KY area. We refer to our portable restrooms as 'restroom rentals', but whether you call them temporary bathrooms, portable toilets, a porta potty rental, port a lets, port-a-johns or refer to them by any other name, we can take care of all your portable sanitation needs.
"Moon is committed to being the number one provider of portable sanitation in this region. This includes the quality of products we offer, the services we provide and the attitude, dedication and skills of our employees. Call today for a quote!"
Call BJ Davis – 502-776-2199 Ext 111
Standard Portable Restrooms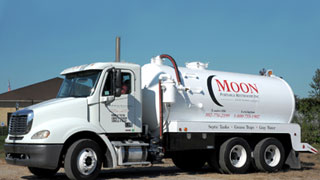 Handicap Portable Restrooms
Moon Portable Restroom Success: It's in the Details
WE HIRE THE BEST
Each of our driver's must have a spotless motor-vehicle record.  Our driver's and service technicians are conscientious and dedicated to the task of providing the service level that is beyond the expectations of our customers.
DEPENDABLE SERVICE
Moon Portable Restrooms was built on the foundation of a very basic business practice, and that is, doing what we say we are going to do.  At Moon, we understand that our success is based on attention to the details of our customers requirements.
EMERGENCY SERVICE
If you or your company needs immediate service, Moon Portable Restrooms is on standby to make sure that you are provided for.  We have built our business on allowing our customers to "Ask for the moon, and get it"!
LARGE INVENTORY
No service requirement is too small or too large.  From renting a porta potty for a back yard bar-b-que to providing portable restrooms for The University of Kentucky's Commonwealth Stadium on game day in Lexington, Moon Portable is up for the task!
WORD OF MOUTH ADVERTISING
Our best advertising comes from our customers telling others about the great products and services that we provide.   When we fulfill our promise of providing a quality portable restroom that is clean and delivered on time, we know that you will refer us to others!
LUXURY RESTROOM TRAILERS
Moon Portable Restrooms has a fleet of restroom trailers suitable for any occasion.  Weddings, special events, festivals or emergency service for a commercial business whose restrooms are down for whatever reason…Moon is ready to provide a quality restroom trailer that is tailored to fit your needs.